"You can make positive deposits in your own economy every day by reading and listening to powerful, positive, life-changing content and by associating with encouraging and hope-building people."
                                                                                     - Zig Ziglar
 
This book covers frequently asked questions about Emerging Technology Trends such as Blockchain, Bitcoin, Ethereum, Ripple, Artificial Intelligence, Machine Learning, Artificial Neural Networks, Deep Learning, Augmented Reality, Connected Homes, Quantum Computing, and more.
This book is organized into five sections, written in the pattern of frequently asked questions and answers. The first section is focused on Blockchain technology and widely known Cryptocurrencies, including but not limited to Bitcoin.
The second section emphasizes Frequently Asked Questions (FAQs) about Artificial Intelligence, Machine Learning, Feature Learning, Artificial Neural Networks, and more.
The third section details the FAQs on another emerging technology i.e. Augmented Reality. 
The next section discusses the significant concepts and smart products that are changing the way we live today! Connected Homes or Smart Homes is a buzzword everywhere!
The fifth section powers you with the unlimited possibilities with 3D Metal Printing, Quantum Computing, and the Balloon-Powered Internet.
This is the first book in the leadership series that will enable you to climb the ladder of success. This book provides insight into what it takes to experience quantifiable success. It emphasizes to think BIG, know your purpose, set high goals, and become a great leader. 
This short inspirational self-help book describes leadership theory and practices. It encourages the readers to create and maintain a goal setting workbook/journal to improve self-esteem and to get everything they want. The book describes how to leverage grand ambition and strategic thinking to lead a purpose driven life.
As rightly stated by David J. Schwartz, "Think little goals and expect little achievements. Think big goals and win big success."
Today, in the corporate world, everyone is talking about Scrum. Major companies like Amazon, Google, Microsoft, IBM, Deloitte, American Express, and many more have adopted Scrum concepts. This book is written to provide a simplified handbook to you such that you can familiarize yourself with the most popular Agile process framework to build complex software products.
Who Should Read This Book?
Experienced and aspiring Project Managers and Business Analysts

Developers, Programmers, Test Managers, and Engineers

Business and Technical Leaders

Students seeking an IT job

Anyone who needs to expand one's career opportunities.

Anyone who needs a short and simple reference book on Scrum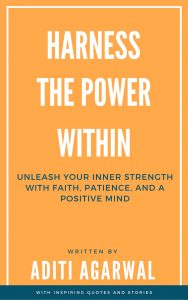 Do you aspire to become successful? Do you want to live your best life? If so, then this book is for you! The purpose of this book is to inspire you to live a happy and a fulfilled life. This book takes the reader on a journey into the spiritual world starting with foundational principles such as unwavering faith and resilience, to the advanced concepts of mindfulness, meditation, and divine consciousness.
You can achieve whatever you think! You can overcome all obstacles in life by unlocking the powers contained within you. Empower yourself and bring a positive change in your life today! 
You reap what you sow. This inspirational book will sow the seeds of positivity in you.
Note: This book is not based on any one religion, rather it covers stories and quotes from multiple scriptures.
Most of us encounter problems in our lives, either at work or at home. These problems cause stress in our minds and leave us exhausted. Instinctively, we start to take ad-hoc actions that we think will resolve the problem, but we soon realize that our actions are not effective and do not prevent or solve the core problem. 
Structured problem solving provides a systematic approach to identifying the root causes of a problem. Many scientific tools and methods have been developed to identify effective solutions to any problem. The most widely used problem-solving techniques are Fishbone Diagram, Brainstorming, Failure Modes, and Effects Analysis, SWOT matrix and 5Whys. 
Several organizations leverage these problem-solving methods to manage their problems at work. Learning about problem-solving tools will definitely help you to effectively solve your problems at work and in everyday life.
This book will give you an understanding of the different problem-solving tools along with practical examples and applications of these tools.
This motivational self-help book reveals a 3-step strategy to embrace positivity in life. It emphasizes the role of positive thinking, affirmations or the spoken word, and positive actions in attaining self-esteem and success. This book can be used as a handbook or a reference book to achieve success through a positive mental attitude. 
The book describes specific techniques, principles, and exercises to develop a positive mindset that leads one to success, happiness, and self-confidence. In addition, it also covers the key habits of successful people, creative thinking, and other success principles.